Geraldton tournament 2018.
Mr. Koh 1st degree on his way to winning Gold in senior Black belt male sparring
9 competitors traveled up to Geraldton for the Oceanic TKD annual tournament. We traveled up on Sat and enjoyed the warm weather by the pool. We also managed to get in some last minute training before heading out for an evening meal together great fun was had by all. The next day was the competition and all competitors did a great job all round. They won a good share of the medals conducted them selves well and represented the club with pride. The competition itself was well run, umpired and fun. Everyone enjoyed the experience and learnt a lot from it. Thanks to Master Jason Bradley for the invitation and for putting on a great competition.
Oceanic Tournament 2018.
The first tournament of the year has been confirmed for 8th April in Geraldton. This is always a great comp and a fun weekend. We usually travel up on the Sat morning, get together in the afternoon and for dinner in the evening. Being well rested for the comp on the Sunday. The guys from Geraldton always show great support for the tournaments in Perth so its nice to repay the favor and travel up for this tournament each year. I will upload accommodation details in the new year.
2018 TERM 1.
Term 1 will start 3rd Feb at Success for the Dragons and the 4th Feb at willagee.
Academy Name Change
Cu Chulaiin TKD has now changed name to Onelife TKD the name of new Chief instructor Mr James Horobins Academy. Mr Horobin would like to thank Mr Crosbie for the opportunity to take on this healthy and well run club.
Upcoming Grading – June 18th 2017
Please be advised that a colour belt grading will be held in Willagee Community Centre on Sunday June 18th 2017. Please have grading fees paid in advance of examination. Speak with Janey or Mr Crosbie. Booklets were recently distributed to all students so review your syllabus and requirements as per your grade.
Incredible Day – Black Belt Results
Brilliant display by the Senior Black belts in Perth on Sunday December 11th 2016 as Mr Crosbie was promoted to 6th Degree whilst Mr Telcik reached 5th degree, Mr Mcloone 4th degree, Mr Riley 4th degree, Mr Creer 3rd degree and Mr Sam passed his prelimary 2nd degree test. It was a grueling grading whereby Master Daher pushed each candidate to the max. It was also historic event as Master Barbour of the AA Association joined the grading panel along with Master Daher of the NA and provided candidates with fantastic points to improve. Well done everyone !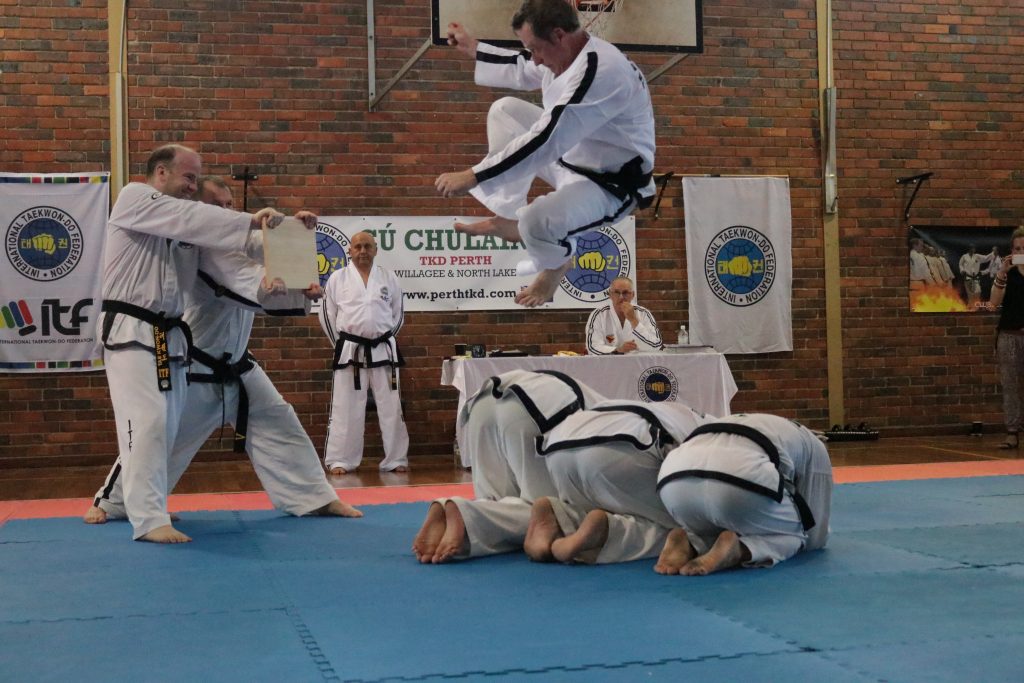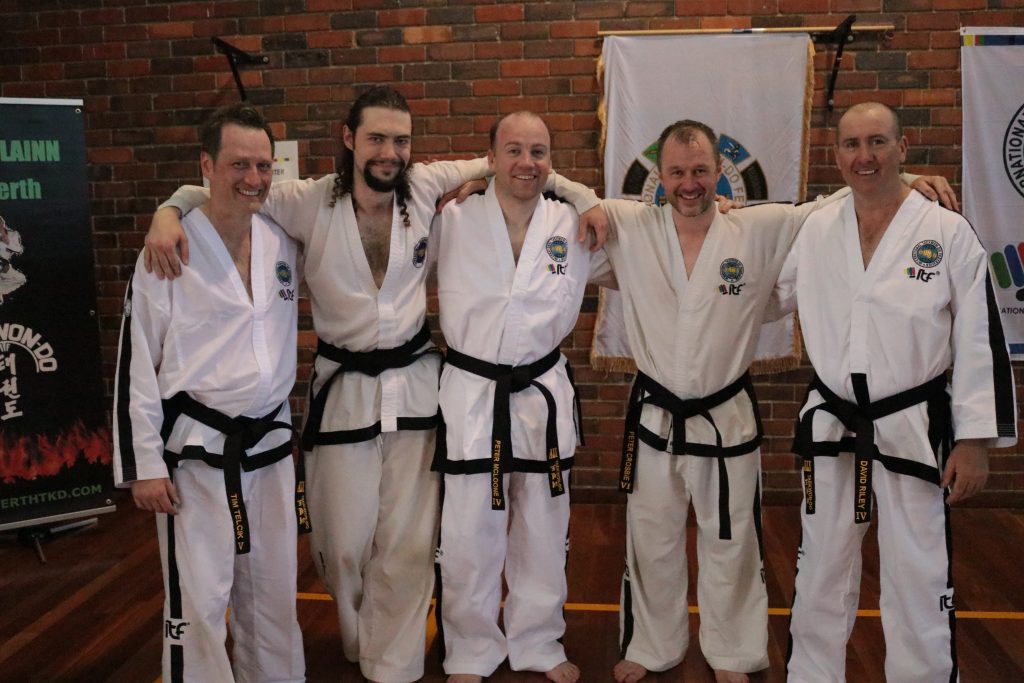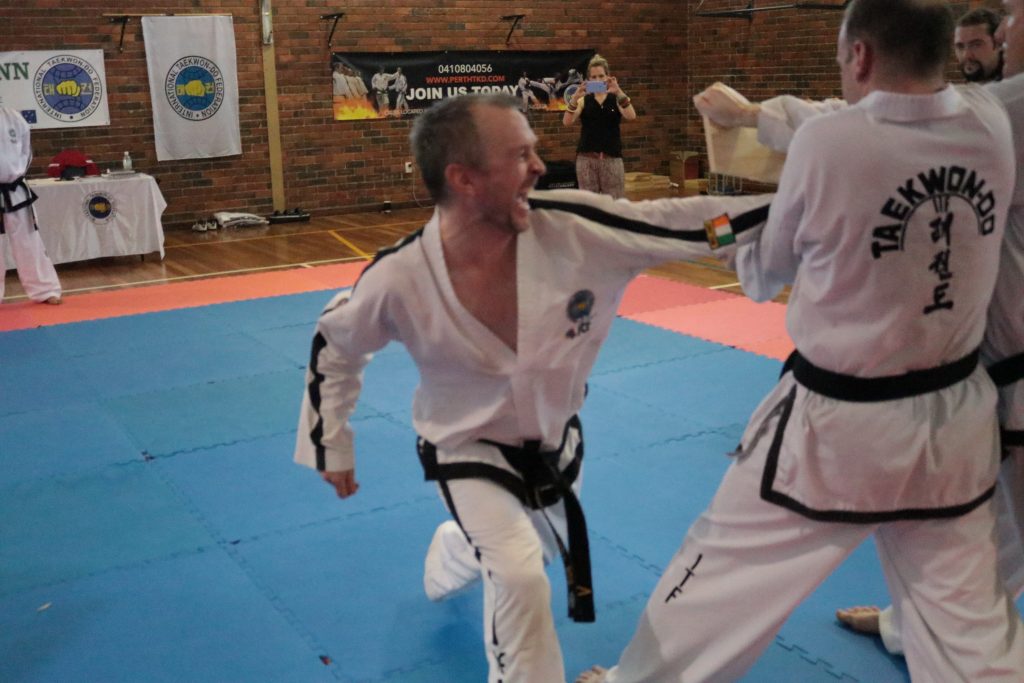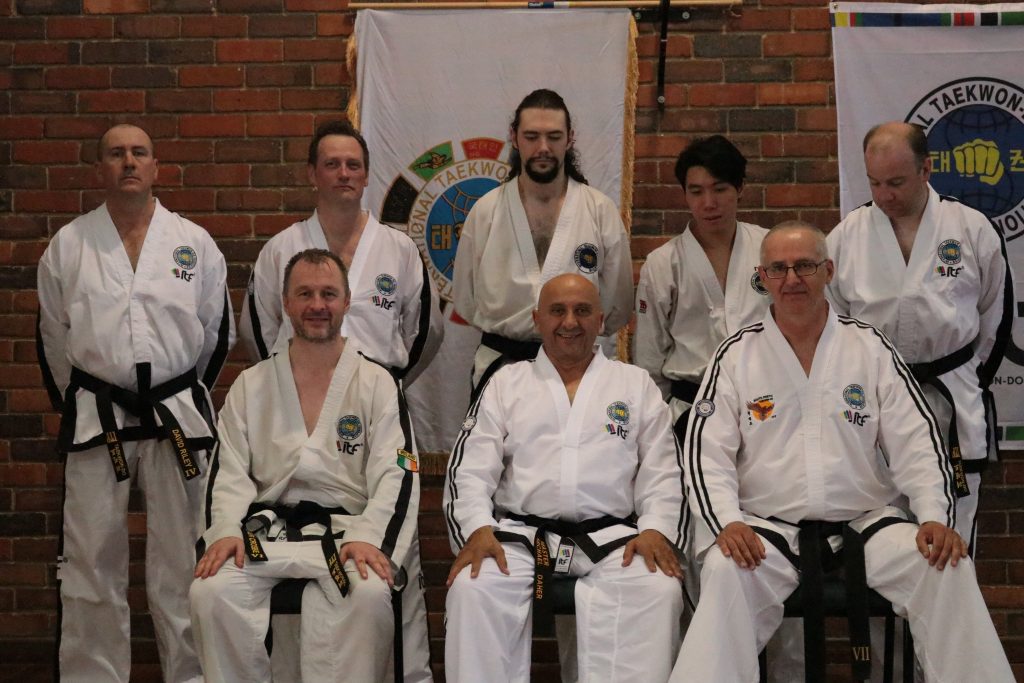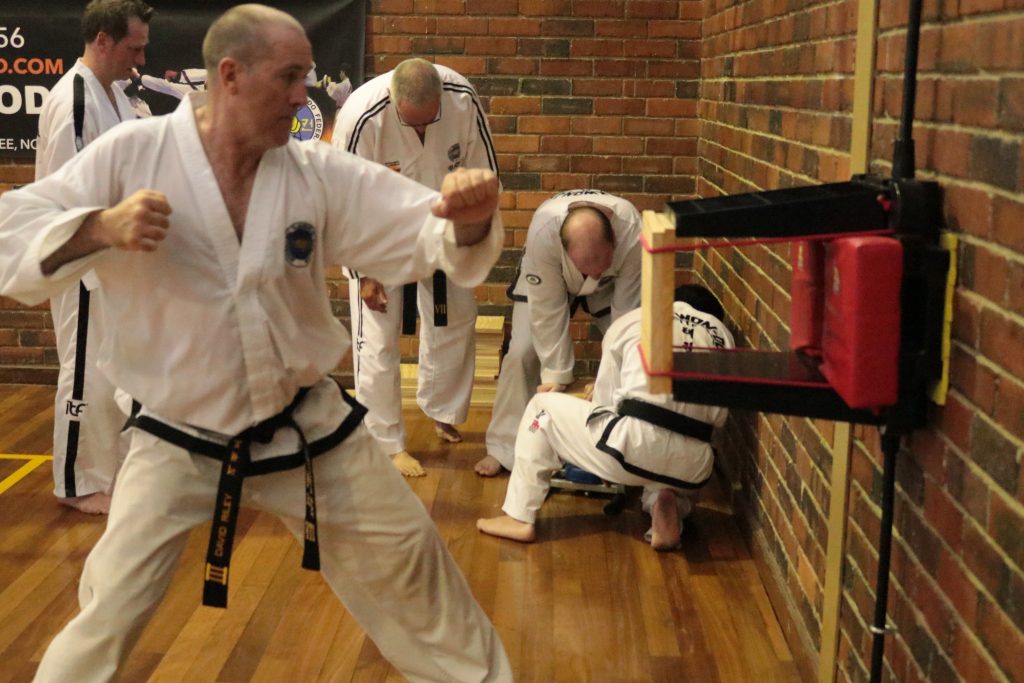 New Term for Tot Classes
in Success & Willagee. Join us !!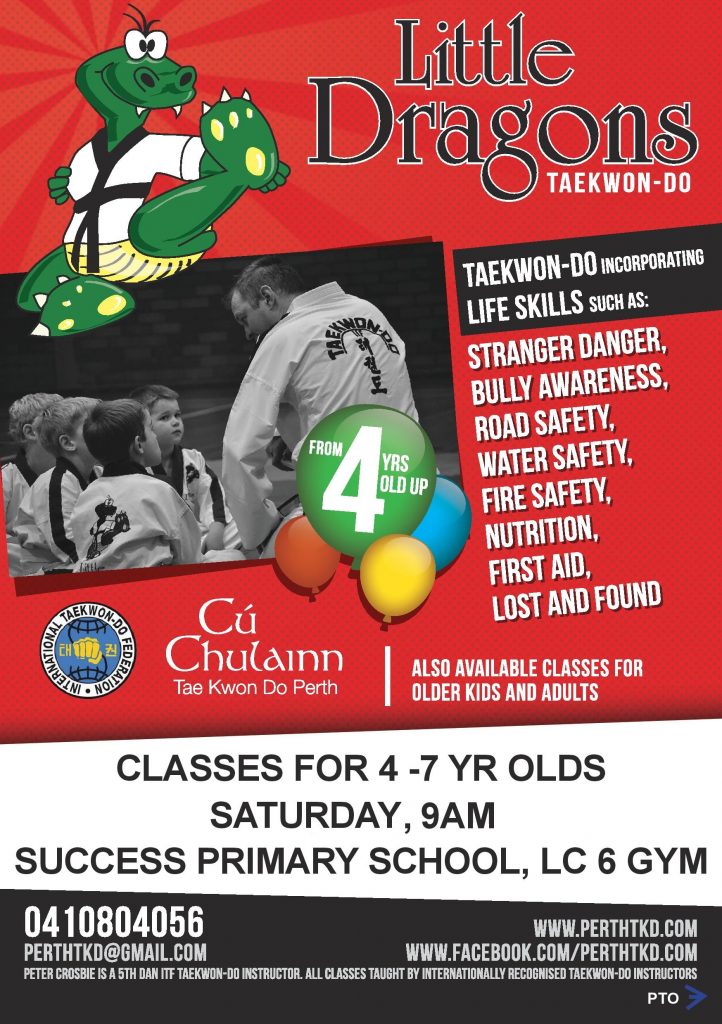 Master Daher is Coming !! December 10th/11th 2016
Do not miss this opportunity to train with one of the best Instructors in the world. It is a huge weekend for the club. Master Daher will conduct a technical seminar on Saturday 10th December at the North Lake Senior Campus from 12.30pm to 4.30pm. Cost is $65 and is open from yellow tag upwards. Deadline to attend Nov 1st. See details.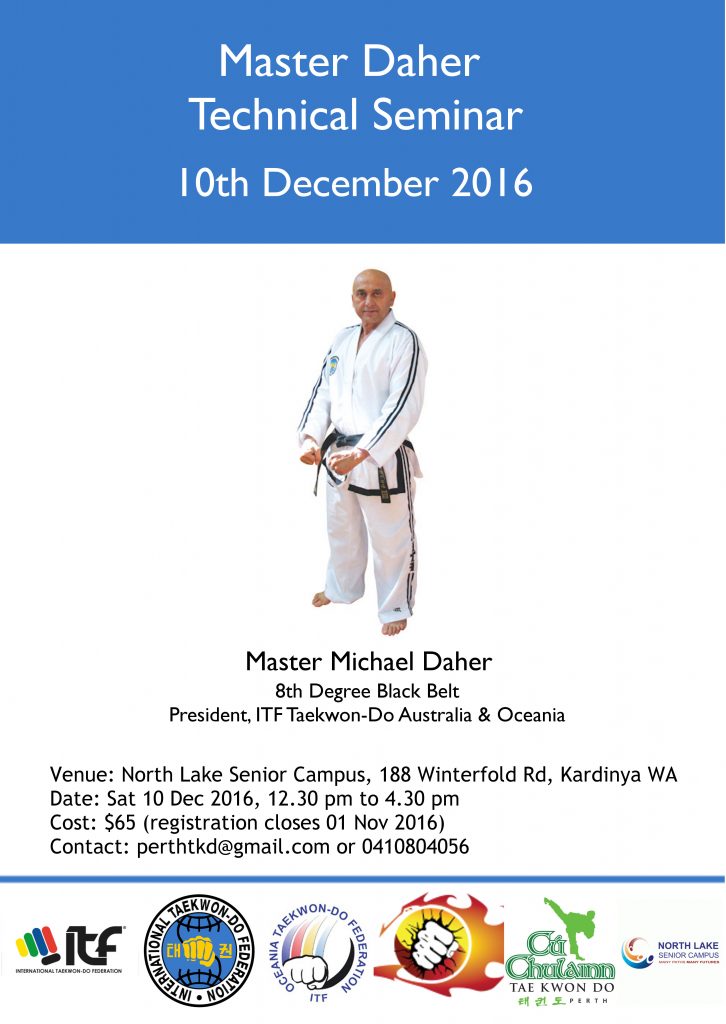 New Clubs Opening July/August 2016
Our new Taekwon-Do club will be opening at Success Primary School on Saturdays from July 23rd 2016.
Report on State Championships May 2016
Good results at the State Championships in Swanview. Olivia Glesson took gold in sparring and bronze in adult female division. Luke Rawlin Smith won 2 silvers in sparring and patterns whilst Tim Telcik won silver in the veterans. Finally, Lachlan Smyth also won a bronze in sparring. Nice pic below of Alan Meehan who just missed out on the medals. He still scored some nice shots!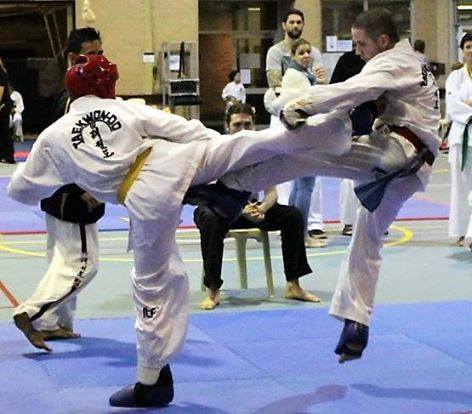 Tournament
Folks attached is the application form for the state championship being held by GM Low. This is an ITF TaeKwon-Do tournament being held in Perth. Great opportunity to get on the floor and try win a few medals. PDF form is here for those wishing to compete. Click 2016 2016 WA AAITF Applic Forms If you are planning on competing in team events then talk to Mr Crosbie before submitting the form as we want to ensure the team guys are up to speed.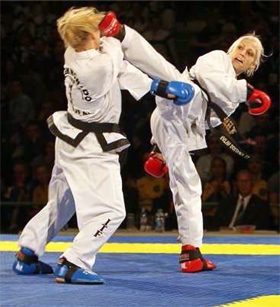 Report – ITF TaeKwon Do Perth Grading
17 Students graded for colour belt ranks on Sunday 15th May 2016.The morning kicked off with students going through fundamental movements, step sparring, patterns, sparring, destruction, self-defence and theory. All 17 passed having been examined by Mr Crosbie and Mr Telcik. Well done to all!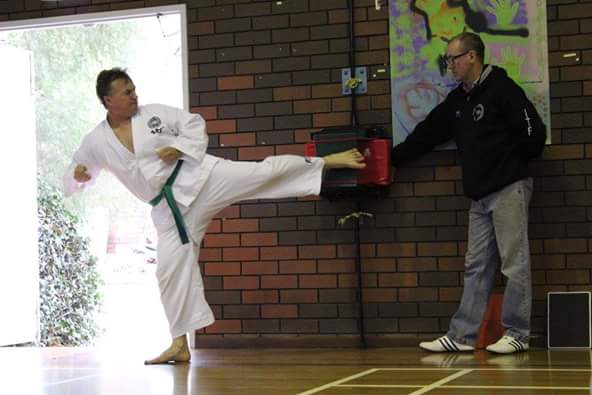 Melbourne Trip
10 members of Cu Chulainn will travel to Melbourne over the ANZAC weekend to conduct a technical seminar under Master Daher 8th Dan Black belt. He is the President of the Oceania Region and one of the finest exponents of Taekwon-Do in the world. There will be no Little Dragons class this weekend however Jason and Thomas will be teaching a 10am class for both juniors and seniors combined. Wish us all luck !