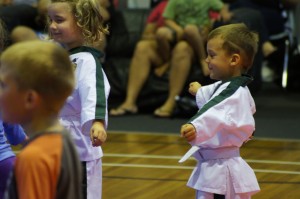 ITF TaeKwon-Do Perth – Little Dragons
Our Little Dragons Martial Arts Taekwon-Do class is aimed at the 4-7 year old age group. It is a brilliant way to introduce young children to TaeKwon-Do in a safe, fun and non pressured environment. The class is jam packed with activities for kids.
These classes are held in Success Primary School, Wentworth Parade every Saturday morning at 9am. Classes are also held at the Willagee Community Centre every Sunday 9am. These classes are very popular so please contact us regarding availability.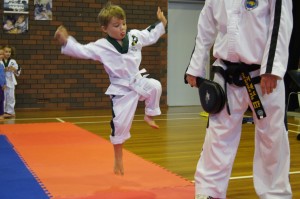 Students are graded regularly and receive badges in the following areas.
Stranger Danger

Bully Awareness

Fire Safety

Water Safety

Home Safety

Nutrition

Lost and Found

Road Safety
We have 64 jig saw mats laid out and most parents bring a coffee and sit down to watch the Tae Kwon-Do classes. If your little one is nervous then jump on the floor with them, no problem. This is a common thing, however before long, their confidence is brewing and you will see the change !
Mr Crosbie 6th Degree ITF Black belt holds a Masters Degree in Psychology and a B.A in Police Studies. This is the perfect environment for kids to learn TKD correctly and in a safe manner! This is the ultimate as far as 'things to do' in Perth for kids.
Little Dragons Program Taekwon-Do Perth